Psst. Hey.
Wanna buy an adjective?
The appropriate adjectives can really go a long way toward making your Arabic speech more careful and precise.
Right here, right now, you can pick up more than 100 Arabic adjectives—these are the good ones, too.
We've hand-selected the words on this Arabic adjectives list to cover the most common situations that might come up. We use adjectives in every conceivable part of life, and for that reason, your efforts to learn Arabic adjectives are vital to ensuring total language mastery!
Table of Contents
1. A Quick Overview of Arabic Adjectives
Adjectives in Arabic require a bit of thought to use completely correctly. Let's take a quick look at Arabic adjective rules, in four simple points.
First, they're always going to be placed after the noun.
Second, if the noun is definite, you have to add the prefix al- to the beginning. Any adjectives following that noun also have to take that definite prefix.
Third, according to Arabic adjective agreement, nouns that are dual or plural need to have adjectives in the dual or plural.
Last, masculine nouns take masculine adjectives, and feminine nouns take feminine adjectives.
Many native Arabic speakers will leave off some or all of the noun endings when they speak their dialect of Arabic, but it's important for you to know them for MSA reading and writing purposes.
For that reason, we'll give you the full adjectives here in these example sentences, and you can practice your Arabic adjectives grammar by working out what gender and number they're in!
2. List of the 100+ Best Arabic Adjectives
1- Describing Colors
Let's start things off with the first and most common Arabic adjectives adjectives almost all new Arabic learners go over.
قَميصُهُ أَسوَد.
qamīṣuhu ʾaswad.
His shirt is black.
إنَّها تَرتَدي سِروَالاً أَبيَضاً.
ʾinnahā tartadī sirwalan ʾabyaḍan.
She's wearing white pants.
العُشبُ أَخضَر جِدّاً اليَوْم.
al-ʿušbu ʾaḫḍar ǧiddan al-yawm.
The grass is very green today.
لا أَستَريح عِندَما تَكونُ السَماء رَمادِيَّة.
lā ʾastarīḥ ʿindamā takūnu al-samāʾ ramādiyyah.
I don't like it when the sky is gray.
هَل سَبَقَ لَك أَن شَرِبتَ الشايْ الأَزرَق؟
hal sabaqa lak ʾan šaribta al-šāy al-ʾazraq?
Have you ever had blue tea?
عادَةً ما أرتَدي الأَحذِيَة البُنِّيَّة.
ʿādaẗan mā ʾrtadī al-ʾaḥḏiyah al-bunniyyah.
I normally wear brown shoes.
اِحذَر مِن الأَفاعي ذات العُيُون الحَمراء.
iḥḏar min al-ʾafāʿī ḏāt al-ʿuyūn al-ḥamrāʾ.
Be careful of snakes with red eyes.
اِنتَظِر حَتّى يُصبِح المَوْز أَصفَراً لِتَأكُلَه.
intaẓir ḥattā yuṣbiḥ al-mawz ʾaṣfaran litaʾkulah.
Wait for the banana to become yellow before you eat it.
بُرتُقالي
burtuqalī
orange
إشتَرَت لي أُمّي قَميصاً بُرتُقالِيَّاً.
ʾištarat lī ʾummī qamīṣan burtuqaliyyaan.
My mom bought me an orange shirt.
2- Describing Food and Taste
Whether traveling or living in an Arabic-speaking country, everybody's gotta eat. Describe your food with these basic Arabic adjectives.
هَل عادَةً ما تَأكُل الطَعام الحار؟
hal ʿādaẗan mā taʾkul al-ṭaʿām al-ḥār?
Do you often eat spicy food?
لا آكُل السَمَك النَيِئ.
lā ʾākul al-samak al-nayiʾ.
I don't eat raw fish.
هُناك شَيْء مُر في طَعامي.
hunāk šayʾ mur fī ṭaʿāmī.
There's something bitter in my food.
بَعض الناس يُحِبّون الحَلوَى الحامِضَة.
baʿḍ al-nās yuḥibbūn al-ḥalwa al-ḥāmiḍah.
Some people like sour candy.
لَيْسَ مِن الصِحّي أَكل الكَثير مِن الطَعام المَقلي.
laysa min al-ṣiḥḥī ʾakl al-kaṯīr min al-ṭaʿām al-maqlī.
It's not healthy to eat a lot of fried food.
إنَّنا حَقّاً نُحِبُّ أَكل الطَعام الحُلو بَعد العَشاء.
ʾinnanā ḥaqqan nuḥibbu ʾakl al-ṭaʿām al-ḥulū baʿd al-ʿašāʾ.
We really love eating sweet food after dinner.
هَل هَذِهِ الخُضرَوات مَطبوخَة أَم نَيِئَة؟
hal haḏihi al-ḫuḍrawat maṭbūḫah ʾam nayiʾah?
Are these vegetables cooked or raw?
هَذا شَديد المُلوحَة بِالنِسبَةِ لي.
haḏā šadīd al-mulūḥah bilnisbaẗi lī.
This is a little too salty for me.
هَل لَدَيْكُم لَحمٌ طازَج؟
hal ladaykum laḥmun ṭāzaǧ?
Do you have fresh meat?
هَذا لَذيذٌ جِدّاً.
haḏā laḏīḏun ǧiddan.
This is so delicious!
3- Describing Personality
You meet a lot of interesting people out and about, with a lot of big personalities. Better know how to talk about them! Here's our list of useful Arabic adjectives to describe personality.
لَدَيْكَ أَطفال مُهَذَّبون.
ladayka ʾaṭfal- muhaḏḏabūn.
You have polite children.
شرير
širrīr
wicked; malicious
المَلِك الشِرّير اِحتَجَز الأَميرَة في قَلعَة.
al-malik al-širrīr iḥtaǧaz al-ʾamīrah fī qalʿah.
The wicked king locked the princess in a castle.
كُن صادِقاً مَعي.
kun ṣādiqan maʿī.
Be honest with me.
ظَريف
ẓarīf
nice; likable
إنَّها ظَريفَة.
ʾinnahā ẓarīfah.
She's likable.
جَدَّتي هادِئَةٌ دائِماً.
ǧaddatī hādiʾaẗun dāʾiman.
My grandmother is always very calm.
الأَطفال الصِغار غالِباً ما يَكونون خَجولين مَع الكِبار.
al-ʾaṭfal- al-ṣiġār ġal-iban mā yakūnūn ḫaǧūlīn maʿ al-kibār.
Little children are often shy around adults.
مُنفَتِح
munfatiḥ
extroverted
هَل تَرى أَنَّكَ شَخص مُنفَتِح؟
hal tarā ʾannaka šaḫṣ munfatiḥ?
Do you think you're an extroverted person?
يالَكِ مِن فَتاةٍ ذَكِيَّة!
yalaki min fatāẗin ḏakiyyah!
What a clever girl!
جَدير بِالثِقَة
ǧadīr bilṯiqah
dependable; trustworthy
كُل أَصدِقائي جَديرون بِالثِقَة.
kul ʾaṣdiqāʾī ǧadīrūn bilṯiqah.
My friends are all trustworthy.
مُشاغِب
mušāġib
naughty; badly behaved
التَلاميذ الآخَرون في القِسم مُشاغِبون.
al-talāmīḏ al-ʾāḫarūn fī al-qism mušāġibūn.
The other students in my class are naughty.
4- Describing Feelings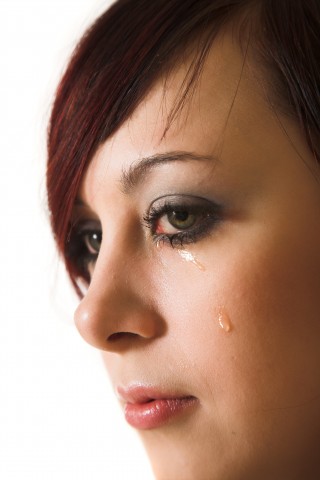 When somebody asks how you're doing, don't blow them off. Answer honestly!
أَشعُر بِأَنَّني سَعيد اليَوْم.
ʾašʿur biʾannanī saʿīd al-yūm.
I'm feeling so happy today!
لا تَكُن حَزيناً!
lā takun ḥazīnan!
Don't be sad!
دائِماً ما أَقلَق قَبل التَحَدُّث أَمام الآخَرين.
dāʾiman mā ʾaqlaq qabl al-taḥadduṯ ʾamām al-ʾāḫarīn.
I always get nervous before speaking in front of others.
أَبي يَغضَب كَثيراً.
ʾabī yaġḍab kaṯīran.
My dad gets angry a lot.
هَل تَخاف مِن العَناكِب؟
hal taḫāf min al-ʿanākib?
Do you get frightened of spiders?
أَنا فَخور بِك.
ʾanā faḫūr bik.
I'm so proud of you.
مُنزَعِج
munzaʿiǧ
annoyed; upset
لا تَتَكَلَّم إلَيّ مِن فَضلِك. أَنا مُنزَعِج قَليلاً.
lā tatakallam ʾilayy min faḍlik. ʾanā munzaʿiǧ qalīlan.
Please don't talk to me. I'm a little annoyed.
راضي
rāḍī
content; satisfied
أَشعُرُ بِأَنَّني راضٍ بِالمَشروع.
ʾašʿuru biʾannanī rāḍin bilmašrūʿ.
I feel satisfied with the project.
إنَّهُ نادِم عَلى البَقاء في بَلَدِه.
ʾinnahu nādim ʿalā al-baqāʾ fī baladih.
He is regretful about staying in his country.
هَل أَنتَ حائِرٌ في مُهِمَّتِك؟
hal ʾanta ḥāʾirun fī muhimmatik?
Are you confused about your task?
في حالَةِ تَأَهُّب.
fī ḥalaẗi taʾahhub
alert
جَلَسَ عَلى السَرير, في حالَةِ تَأَهُّبٍ يُراقِب.
ǧalasa ʿalā al-sarīr, fī ḥal-aẗi taʾahhubin yurāqib.
He sat up in bed, alert and watching.
5- Describing Appearance (People)
Describing people's appearance is different than describing things. Here's what you need for the former.
كُنتُ شابّاً حائِراً في الحَيَاة.
kuntu šābban ḥāʾiran fī al-ḥayah.
I was young and confused about life.
هَذِهِ العَجوز لَدَيْها قِصَصٌ عَظيمَة
haḏihi al-ʿaǧūz ladayhā qiṣaṣun ʿaẓīmah
This old woman has great stories.
مَن هَذِهِ المَرأَة القَصيرَة؟
man haḏihi al-marʾah al-qaṣīrah?
Who's that short woman?
إنَّهُ رَجُلٌ مُسِن, لَكِنَّهُ مازال طَوِيلاً جِدّاً.
ʾinnahu raǧulun musin, lakinnahu māzal- ṭawilan ǧiddan.
He's an old man, but he's still very tall.
نَحتاجُ شَخصاً قَوِيّاً لِحَملِ هَذا.
naḥtāǧu šaḫṣan qawiّan liḥamli haḏā.
We need someone strong to lift this.
السوق مَليء بِالمُسِنّين والمُلتَحين.
al-sūq malīʾ bilmusinnīn ūlmultaḥīn.
The market is full of old and bearded men.
إنَّهُ شاب لَكِنَّهُ أَصلَع.
ʾinnahu šāb lakinnahu ʾaṣlaʿ.
He's young, but he's already bald.
جَميل
ǧamīl
beautiful; handsome
لَدَيْكَ زَوْجَةٌ جَميلَةٌ.
ladayka zawǧaẗun ǧamīlaẗun.
You have a beautiful wife.
لَستَ بَشِعاً عَلى الإطلاق.
lasta bašiʿan ʿalā al-ʾiṭlāq.
You're not ugly at all.
لاحَظت أَنَّني أَصبَحتُ سَميناً قَليلاً.
lāḥaẓt ʾannanī ʾaṣbaḥtu samīnan qalīlan.
I noticed that I'm getting a little fat.
أَخي نَحيفٌ جِدّاً.
ʾaḫī naḥīfun ǧiddan.
My brother is very skinny.
نَشيط
našīṭ
athletic; lively
أَغلَب الطَلَبَة الجامِعيين رِيَاضِيُّون.
ʾaġlab al-ṭalabah al-ǧāmiʿīīn riyaḍiyyūn.
Most college students are athletic.
6- Describing Nationality
People come from all over, and country names are something you can't avoid learning.
مَغْرِبِيّ
maġribiyy
Moroccan
هَل أَبوكَ مَغرِبِيّ؟
hal ʾabūka maġribiyy?
Is your father Moroccan?
كَنَدِيّ
kanadiyy
Canadian
هَل تَعلَم مَن هُوَ رَئيس الحُكومَة الكَنَدِيّ؟
hal taʿlam man huwa raʾīs al-ḥukūmah al-kanadiyy?
Do you know who the Canadian prime minister is?
فَرَنْسِي
faransiī
French
لا أُحِب الأَكل الفِرِنسِيّ.
lā ʾuḥib al-ʾakl al-firinsiyy.
I don't like French food.
إِنْدُونِيْسِيّ
ʾiinduūniysiyy
Indonesian
الإندونيسِيُّون أُناسٌ طَيِّبون جِدّاً.
al-ʾindūnīsiyyuūn ʾunāsun ṭayyibūn ǧiddan.
Indonesian people are very friendly.
هُناكَ مَطعَمٌ صينِيّ قُرب مَنزِلي.
hunāka maṭʿamun ṣīniyy qurba manzilī.
There's a Chinese restaurant near my house.
أَمْرِيْكِيّ
ʾamriykiyy
American
السَيّارات الأَمريكِيَّة مَعروفَة في العالَم.
al-sayyārāt al-ʾamrīkiyyah maʿrūfah fī al-ʿalam.
American cars are popular around the world.
مِصْرِيّ
miṣriyy
Egyptian
الجامِعات المِصرِيَّة مَشهورَة حَوْل العالَم.
al-ǧāmiʿāt al-miṣriyyah mašhūrah ḥawl al-ʿalam.
Egyptian universities are famous around the world.
تُوْنِسِيّ
tunisiyy
Tunisian
يُعجِبُني الطَقس التونِسي.
yuʿǧibunī al-ṭaqs al-tūnisī.
I enjoy Tunisian weather.
إِمَارَاتِيّ
ʾimārātiyy
Emirati
لَدَيَّ عِلاقاتٍ مَع عِدَّةِ شَرِكاتٍ إماراتِيَّة.
ladayya ʿilāqātin maʿ ʿiddaẗi šarikātin ʾimārātiyyah.
I have connections with several Emirati companies.
7- Describing Appearance (Things)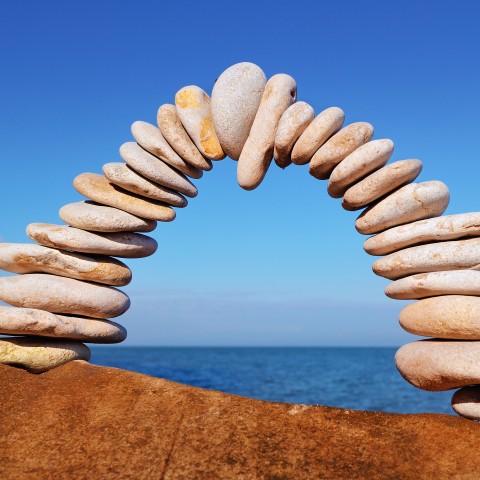 Now let's learn how to describe inanimate objects, as opposed to people.
هَذِهِ صِوَرٌ جَيِّدَة.
haḏihi ṣiwarun ǧayyidah.
These are good pictures.
يَالَها مِن فِكرَةٍ عَظيمَة.
yalahā min fikraẗin ʿaẓīmah.
What a great idea!
هَذِهِ سَيَّارَة سَيِّئَة. لا أَظُنٌ أَنَّكَ يَجِبُ أَن تَشتَريها.
haḏihi sayyaārah sayyiʾah. lā ʾaẓunun ʾannaka yaǧibu ʾan taštarīhā.
That's a bad car and I don't think you should buy it.
أَخبَرَني أَنَّ أَفكاري رَهيبَة.
ʾaḫbaranī ʾanna ʾafkārī rahībah.
He told me my ideas were terrible.
لَدَى وَالِداي شَجَرَة كَبيرَة أَمام مَنزِلَيْهِما.
ladā walidāī šaǧarah kabīrah ʾamām manzilayhimā.
My parents have a huge tree in front of their house.
أُريدُ سَيَّارَةً كَبيرَة.
ʾurīdu sayyaāraẗan kabīrah.
I want a big car.
أُختي لَدَيْها كَلبٌ صَغير.
ʾuḫtī ladayhā kalbun ṣaġīr.
My sister has a small dog.
أَقرَأُ كِتاباً طَويلاً.
ʾaqraʾu kitāban ṭawīlan.
I'm reading a long book.
الصَحراء شاسِعَة.
al-ṣaḥrāʾ šāsiʿah.
The desert is vast.
هاتِفي كانَ جَديداً, والآن لا أَستَطيعُ إيجادَه.
hātifī kāna ǧadīdan, ūlʾān lā ʾastaṭīʿu ʾiīǧādah.
My phone was new, and now I can't find it.
يُمكِنُكَ إستِعمال هاتِفي القَديم.
yumkinuka ʾistiʿmal hātifī al-qadīm.
You can use my old phone.
هَذِهِ الحَقيبَة ثَقيلَة.
haḏihi al-ḥaqībah ṯaqīlah.
This bag is heavy.
8- Describing Weather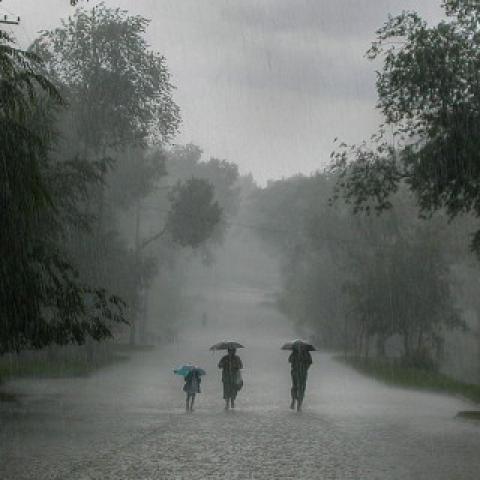 Weather's a great icebreaker since it happens everywhere and all the time. If these words don't do it for you, check out our adjectives vocab list!
أُفَضِّل الطَقس الحارّ.
ʾufaḍḍil al-ṭaqs al-ḥārr.
I prefer hot weather.
شَخصِيّاً, أَنا حَقّاً أُحِبُّ الطَقس البارِد.
šaḫṣiyyan, ʾanā ḥaqqan ʾuḥibbu al-ṭaqs al-bārid.
Personally, I really like cold weather.
مَع الأَسَف, الطَقسُ غائِم لَيْلاً.
maʿ al-ʾasaf, al-ṭaqsu ġāʾim laylan.
Unfortunately, it's cloudy at night.
إنَّهُ يَوْمٌ جَميل و مُشمِس.
ʾinnahu yūmun ǧamīl wa mušmis.
It's a beautiful and sunny day.
إنَّ الطَقسُ عاصِف دائِماً قُرب الساحِل
ʾinna al-ṭaqsu ʿāṣif dāʾiman qurb al-sāḥil
It's always windy near the coast.
تَكادُ لا تُمطِر السَماء في الرَبيع.
takādu lā tumṭir al-samāʾ fī al-rabīʿ.
It's almost never rainy in spring.
الطَقسُ رَطِب جِدّاً في هاوَاي طول السَنَة.
al-ṭaqsu raṭib ǧiddan fī hāwaī ṭūl al-sanah.
The weather is really humid in Hawaii all year.
9- Describing Touch
This goes hand-in-hand with describing objects—these adjectives are rarely learned at the beginning, but they're very useful in daily life.
اِنظُر إلى سَطح الماء الأَملَس.
inẓur ʾilā saṭḥ al-māʾ al-ʾamlas.
Look at the smooth surface of the water.
جِلدُهُ خَشِن.
ǧilduhu ḫašin.
His skin is rough.
مُتَشَقِّق
mutašaqqiq
cracked
مِرآتي مُتَشَقِّقَة. هَل تَعرِفُ مَن فَعَلَ ذَلِك؟
mirʾātī mutašaqqiqah. hal taʿrifu man faʿala ḏalik?
My mirror is cracked. Do you know who did it?
لَدَيْها شَيْءٌ لامِع في يَدِها.
ladayhā šayʾun lāmiʿ fī yadihā.
She has something shiny in her hand.
الأَطباق زَلِقَة.
al-ʾaṭbāq zaliqah.
The dishes are slippery.
الأَرضِيَّة مُبَلَّلَة, ِلذا كُن حَذاً.
al-ʾarḍiyyah muballalah, ilḏā kun ḥaḏiran.
The floor is wet, so be careful.
اترُك الأَرُز جافّاً قَبلَ اِستِعمالِه لِلطَبخ.
itruk al-ʾaruz ǧāffan qabla istiʿmal-ih lilṭabḫ.
Keep rice dry before using it to cook.
هُناكَ شَيْءٌ لَزِج عَلى الطاوِلَة.
hunāka šayʾun laziǧ ʿalā al-ṭāwilah.
There's something sticky on the table.
هَذِهِ قِطعَةُ آثارٍ هَشَّة.
haḏihi qiṭʿaẗu ʾāṯārin haššah.
This is a fragile antique.
أُحِبُّ الأَسِرَّة الناعِمَة.
ʾuḥibbu al-ʾasirrah al-nāʿimah.
I like soft beds.
10- Describing Concepts
People, places, things, and ideas—all of them get separate types of adjectives when it's time to be specific. Here are the Arabic adjectives that are used for describing concepts.
هَل مِن الصَعب تَحَدُّث العَرَبِيَّة بِطَلاقَة؟
hal min al-ṣaʿb taḥadduṯ al-ʿarabiyyah biṭalāqah?
Is it difficult to speak Arabic fluently?
يُرجى تَدوين المُلاحَظات خِلال هَذا الاِجتِماع المُهِم.
yurǧā tadūīn al-mulāḥaẓāt ḫilal- haḏā al-iǧtimāʿ al-muhim.
Please take notes during this important meeting.
هَل يُمكِنُنا أَن نَأخُذَ غُرفَة خاصَّة؟
hal yumkinunā ʾan naʾḫuḏa ġurfah ḫāṣṣah?
Can we have a private room?
لَقَد أَدلَت بِإعلان عام الأَمس.
laqad ʾadlat biʾiʿlān ʿām al-ʾams.
She made a public announcement yesterday.
مُعَقَّد
muʿaqqad
complex
هَذِهِ المُشكِلَة مُعَقَّدَة.
haḏihi al-muškilah muʿaqqadah.
This problem is complex.
العَرَبِيَّة لَيْسَت لُغَة بَسيطَة.
al-ʿarabiyyah laysat luġah basīṭah.
Arabic is not a simple language.
أَنتَ خاطِئ حَوْل ذَلِك.
ʾanta ḫāṭiʾ ḥawl ḏalik.
You're wrong about that.
صَحيح
ṣaḥīḥ
true; correct
لا أَظُنُّ أَنَّ ما قالَهُ صَحيح.
lā ʾaẓunnu ʾanna mā qal-ahu ṣaḥīḥ.
I don't believe that what he said is correct.
هَذِهِ مُحاضَرَة مُمِلَّة.
haḏihi muḥāḍarah mumillah.
This is a very boring lecture.
وَاضِح
waḍiḥ
clear; obvious
الجَوَابُ وَاضِح الآن.
al-ǧawabu waḍiḥ al-ʾān.
The answer is clear now.
3. Conclusion
Finished reading through the list?
Let me tell you, if you read through it again once more tomorrow, and then once more after that, these phrases are going to stick in your head like nobody's business. Consistency and repetition are important while increasing your Arabic adjectives vocabulary!
Looking for more Arabic resources? ArabicPod101 has got you covered, with blog articles, vocab trainers, flashcards, and, of course, podcasts.
Before you go, let us know in the comments what new adjectives you learned today. Are there are any adjectives you still want to learn? We look forward to hearing from you and answering any questions you have!