Let's face it.
Modern Standard Arabic (MSA) is probably one of the most (if not the most) difficult languages to learn.
A new script, complex grammar, and very intricate conjugation rules that even native speakers struggle to master…
But I'm going to let you in on a secret.
There is one way you can make HUGE progress towards mastery in MSA (or any other Arabic dialect) with little to no effort.
A method you can use while driving, lying in bed, traveling, hiking, walking around town, or even relaxing in the park.
Enter Arabic podcasts.
Podcasts bring you the best Arabic-language audio content out there, all condensed into straight-to-the-point clips that both educate and entertain.
To help you get started, we've taken the time to list the top five Arabic podcasts currently available.
Before we jump into the podcasts, let's dig a bit further into the pros of learning Arabic using podcasts.
Table of Contents
1. Benefits of Using Podcasts to Learn Arabic
You can have a much easier time learning Arabic (whether MSA or your chosen dialect) by immersing yourself in audio content. And guess what? Podcasts aren't boring. Not that I want to bash textbooks, but they definitely give most learners a headache after a while. 
Furthermore, here are three advantages of using podcasts to learn Arabic:
They help you improve your listening skills.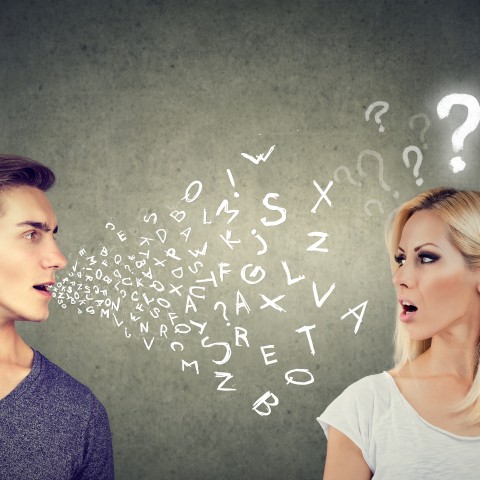 Practice makes perfect. If you don't live in an Arabic-speaking country, chances are you're lacking a good amount of Arabic listening practice.
Podcasts are a fun way to compensate for this lack of practice, and they provide you with a better idea of the patterns used in spoken Arabic. 
You'll learn new words.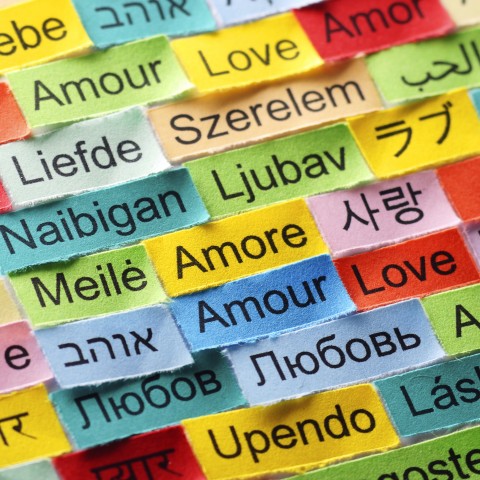 After the starter phase, the most important element in your language learning will always be vocabulary acquisition. Even if you understand the grammar rules and can comprehend most of what you hear, it really doesn't matter that much if you can't find the right words at the right time. 
Podcasts provide an efficient way for learners like you to be exposed to new vocabulary on a continuous basis, which slowly grows your vocabulary—whether consciously or subconsciously.
They can help familiarize you with the culture.
Getting a feel for how people perceive words and view their surroundings plays a large part in language mastery. Herein lies the failure of most school learning programs, as they don't provide enough immersion work to help students understand the cultural perceptions of things.
Arabic speakers see religion and travel, for example, in different ways than Westerns do. Religion is very prominent within the culture, schedules, and daily activities of Arabic-speakers, while travel is seen as a big luxury.
2. Arabic Podcasts: The 5 Go-To Podcasts for Language Learners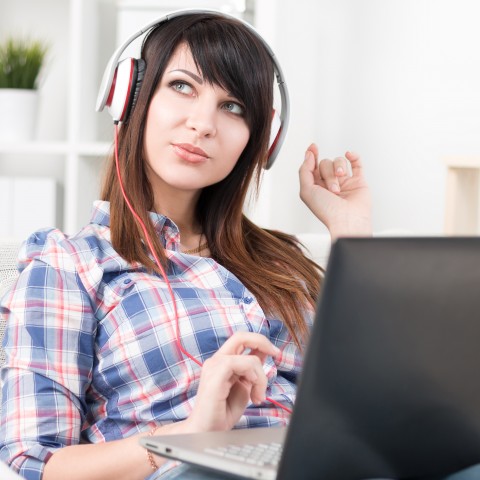 Below, we've listed our five favorite Arabic podcasts to get you started. We have the podcasts categorized by level, meaning you won't be left out regardless of your current level. 
Arabic Podcasts for All Levels
ArabicPod101 is pretty much the ultimate resource for learning Arabic. We focus primarily on MSA (Modern Standard Arabic), but you can also access playlists for Egyptian Arabic if that's your target dialect.
The MSA lessons on our podcast (and our website) are especially simplified, and they cover pretty much all levels. The episodes range from one to ten minutes long. There's even a 24/7 live video stream on our YouTube channel, so you can tune in anytime. You can play the livestream to get sort of a TV experience rather than picking each individual lesson yourself. 
The most unique feature of the ArabicPod101 podcast is that it's linked with one of the top Arabic learning websites: ArabicPod101.com.
ArabicPod101 gives you access to thousands of audio and text lessons, all well-organized within a system that matches you with the best content for your level and needs.
Moreover, you can request access to a private language tutor who will create a customized learning program to suit your schedule and help you get the most out of your learning time.
ArabicPod101 podcast episodes are uploaded regularly, so you'll always have new learning content available and won't have to keep chewing on older episodes.
The Arabic We Speak is a podcast run by Dalal and Amani, two well-cultured women from the Jordanian capital of Amman. They work full-time in translation, education, and authoring. They run the podcast to help learners of Levantine Arabic understand more about their culture and more easily pick up this particular dialect.
Whether you're curious about Jordanian life or want to take your Levantine Arabic to the next level, this Arabic learning podcast is right for you.
Every podcast episode comes with a lesson worksheet, and the series has recently been more focused on advanced-level content (though there are episodes available for elementary and intermediate learners as well). It's updated on a weekly basis, with a few long breaks in-between.
Beginner
This podcast is especially great for beginners, thanks to the passion you can feel throughout each episode. Sam Martin Burr, the host of the Arabic in 60 Steps podcast, brings tremendous energy and is always happy to go into great detail about even the most basic of rules.
It's worth noting that this podcast requires a bit of existing knowledge in the Arabic language—especially when it comes to basic writing and the alphabet—in order to follow along a bit easier.
The podcast is updated around every month. Therefore, you can expect some new content every once in a while, as you revisit older episodes in the meantime. 
Intermediate
Real Arabic is mainly a cultural podcast. It gives you an overview of culture, history, and belief systems in the Levantine countries of Lebanon and Syria. The hosts are Amer (a native Levantine Arabic speaker) and Keire Murphy (a writer and presenter). Amer presents in Arabic, and Keire follows with English translations.
The podcast has not been active recently, but the existing episodes are pretty long and should cover some great practice time for you.
Please note that all episodes are done in Levantine Arabic, so don't expect to learn MSA from this podcast.
Every published episode comes with transcripts in both English and Arabic, but unfortunately, they have no romanizations as most listeners are assumed to be able to read Arabic.
Advanced
Sowt Podcasts is a professionally recorded podcast out of Amman, Jordan. It covers political, social, and cultural issues in the Arab world, especially in the Levantine region.
The biggest advantage of this podcast for advanced learners is that the host speaks at a slow pace. The pace gets a bit faster when guests are on the show, but you can always keep up as the host comments along.
The podcast is very successful, so episodes are published continuously.
3. Tricks to Help You Learn Arabic More Effectively with Podcasts
On the Go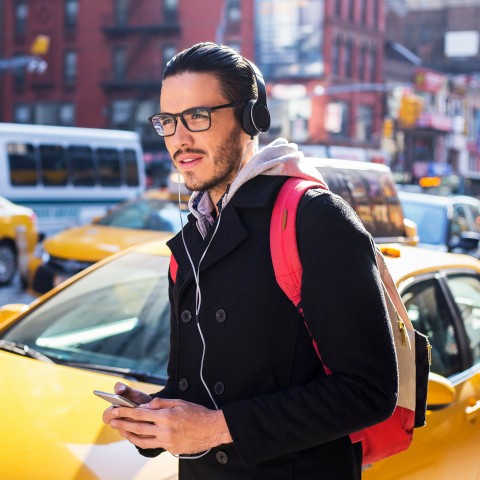 You may worry that podcasts will be less efficient when you're on the go, as you're more likely to be distracted by your surroundings. Still, there are some great techniques that will help you get the most out of your learning time when you're out and about.
Repetition is king when you're learning on the go. Working to match the host's pronunciation of Arabic words while listening to podcasts will boost your speaking skills and improve your vocabulary.
Another way to get the most out of learning on the go is to note down new words. You can then go back and review those words, turn them into flashcards for more effective practice, or even use them for writing and speaking exercises at a later time.
At Home
At home, getting the most out of podcasts is much easier. You have more options and more control of your time. 
The best way to improve your Arabic with podcasts at home is to take advantage of any additional tools offered by the podcast developers. For example, ArabicPod101 offers vocabulary lists and lesson notes with our lessons that you can use to solidify everything you're learning. 
If you're listening to an episode about grammatical gender in Arabic, for instance, you can check the description to access the page or cheat sheet created by ArabicPod101's language experts. And on our website, you can take advantage of the full range of ArabicPod101's features―digital flashcards, slowed-down audio, line-by-line breakdowns, voice recording tools, and more.
4. Conclusion
Congratulations on getting this far! You now have the top Arabic podcasts at your disposal, and you can get started right away regardless of your current proficiency level.
As you begin integrating podcasts more and more into your daily life, you'll find yourself slowly shifting to podcasts covering specific topics that interest you.
Think that would be a hard transition to make?
Try ArabicPod101.
Here, you can find theme-specific vocabulary lists covering your favorite topics.
Each vocabulary list features the Arabic word, its romanization, and its translation in English—all accompanied by audio recordings for more efficient learning. 
Signup is free, and no credit card is required.
What are you waiting for? Start learning Arabic with us today!