When you consider studying a new language, you never really think about all the little bits and pieces you have to learn. For instance, the "conjunction" meaning in Arabic.
Arabic learners think longingly of the beautiful script, the challenging sounds, and the rich literary vocabulary. Mastering all the uses of how to say "and" ranks pretty low on people's lists.
But here's the thing—you can change your mindset about this. You can treat these little bits of grammar as stepping stones to producing elegant and elaborate language.
And longer, complex sentences actually tend to be more regular than shorter sentences, which makes sense. More frequent things get repeated so much that the irregularities become natural, while more complicated things have to be built from rules each time.
All that to say, when you master Arabic conjunctions, you'll immediately be able to speak about the world in way more detail. Thus, in Arabic grammar, conjunctions may just be one of the most essential things you learn. Let's find out why.
Table of Contents
1. What Do Conjunctions Do?
You already know that Arabic has a rich history of poetry, scripture, and literature. What you may not have been aware of is that it has a rich history of grammar, as well.
Ali ibn Abi Talib, cousin and son-in-law of the Prophet Muhammad, wrote in the seventh century that there were three types of words in Arabic: names, actions, and particles. Modern linguistics may divide things into a few more shades, but you'll still find plenty of people discussing the language in these terms.
Arabic conjunction words, being neither noun nor verb, fall into the "particle" category. It may already be clear to you why: The most common conjunction "and" is always attached to the following word in traditional grammar.
The point of conjunctions is also pretty simple to grasp. They simply connect words and ideas to show relationships such as cause and effect, sequence, and relatedness.
Or in simpler terms, they let you stop talking about the world in simple sentences and isolated terms, and open up a whole new universe of possibility.
To clear up any questions you may still have, let's take a look at some examples of Arabic conjunctions in English, and a short Arabic conjunctions list.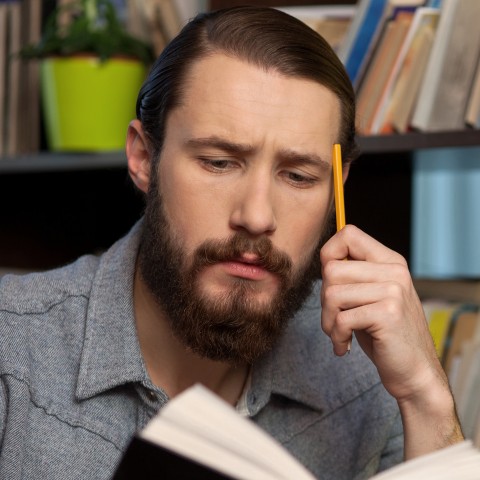 Giving Extra Information
We've already mentioned one: the humble particle و (wa) meaning "and." It shares some similarities to English in the way it's used. There's no hierarchy of importance, and there's no implication of ordering:
Ahmad and Rania arrived at work.
وصل أَحمَد ورانيَة إلى العَمَل.
waṣal ʾaḥmad wa rānyah ʾilā al-ʿamal.
With this sentence alone, nobody can tell who arrived first, nor can you tell who is whose boss.
But Arabic has words for that, and here we diverge from English. There are two words for "then" that indicate either a short period of time or a long period of time between the two happenings.
First, فَـ is used when it's not necessary to mention the length of time, or when one thing happens close after another.
I entered the room, then I sat down.
دَخَلتُ الغُرفَة فَجَلَست.
daḫaltu al-ġurfah faǧalast.
Now look at the word ثُمَّ which means "then," and has the sense of a longer time delay.
She graduated from high school, then from university.
تَخَرَّجتُ في المَدرَسَةِ الثانَوِيَّة، ثُمَّ في الجامِعَة.
taḫarraǧtu fī al-madrasaẗi al-ṯānawiّah, ṯumma fī al-ǧāmiʿah.
Another particle in the same vein is ليس (la) meaning "not." When saying that one person did a thing, but not somebody else, you don't need to include the verb a second time.
Adil was late, not Hamid.
عادِل تَأَخَّر, لَيْسَ حامِد.
ʿādil taʾaḫḫar, laysa ḥāmid.
Similarly, the word لَكِنْ (lakin) meaning "but" fits into the same pattern, where you just need a single word after the preposition.
The car wasn't stolen but the bike (was).
السَيّارَة لَم تُسرَق, لَكِن الدَرّاجَة سُرِقَت.
al-sayyārah lam tusraq, lakin al-darrāǧah suriqat.
In fact, there are two ways to do this, and here's the other: بالأحرى bil'ahra meaning "rather." You can think of it not necessarily as negating the previous mentioned thing (though it can perform this function), but instead it adds clarifying detail.
I visited Egypt, or rather, Luxor.
لَقَد زُرتُ مِصر, أَوْ بِالأَحرى, الأُقصُر.
laqad zurtu miṣr, ʾaw bilʾaḥrā, al-ʾuqṣur.
Showing Cause and Effect
So far, we've covered some of the most common Arabic coordinating conjunctions, which connect two similar things together. Now, though, we'll look at Arabic subordinating conjunctions, which connect one idea to a closely related idea.
You can think of it like this: Coordinating conjunctions in Arabic connect two ideas that could stand alone if necessary, while subordinating conjunctions connect ideas that are so close-knit as to require each other to exist.
And one of the most common ways that this relationship can manifest is in cause and effect, also known as conditionals.
(in) إِن is one Arabic word for "if." It always comes at the beginning of the sentence.
This word is used for simple if-then statements about the present time, and therefore, it's always followed by a present-tense verb. It's for things you're sure about.
If you sleep late, you will miss the exam.
إن نِمتَ مُتأَخِّراً, سَوْفَ تَتَغَيَّب عَن الإمتِحان.
ʾin nimta mutʾaḫḫiran, sawfa tataġayyab ʿan al-ʾimtiḥān.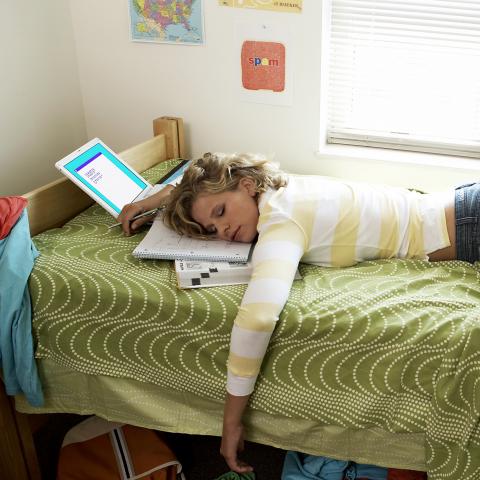 If we see him, we will talk to him.
سَوْفَ نُكَلِّمُهُ إن رَأَيْناه.
sawfa nukallimuhu ʾin raʾaynāh.
As you can see, we can't fully express this cause-effect relationship without directly connecting the two ideas together. Two separate sentences wouldn't cut it here, in English or in Arabic.
لَوْ (law) is another word with a similar meaning. It's used to talk about things that might possibly happen—hypothetical statements, in other words.
Similar to English, a past-tense verb follows the word "if."
If I had more money, I would buy a boat.
لَوْ كانَ لَدَيْ المَزيد مِن النُقود لاشتَرَيْتُ قارِباً.
law kāna laday al-mazīd min al-nuqūd lāštaraytu qāriban.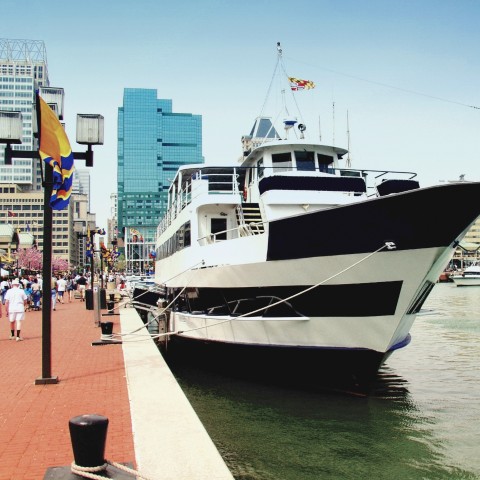 If I knew Spanish, I would move to Spain.
كُنتُ سَأَنتَقِل إلى إسبانيَا لَوْ كُنتُ أَعرِف الإسبانِيَّة.
kuntu saʾantaqil ʾilā ʾisbānya law kuntu ʾaʿrif al-ʾisbāniyyah.
Now we can move from hypothetical statements to actual statements of effects that were caused by something else.
لِأَنَّ (li'ana) is a relatively versatile word. In English, it sounds a bit off to start a sentence with "because" and then give the reason afterward. Not so in Arabic; we can place that part before or after the other part.
Because I have no money, I won't go to the cinema.
لَن أَذهَبَ إلى السينِما لِأَنَّني لا أَملُكُ أَيَّ نُقود.
lan ʾaḏhaba ʾilā al-sīnimā liʾannanī lā ʾamluku ʾayya nuqūd.
He lives in Marrakesh because he likes the weather.
نَّهُ يَعيش في مَراكِش لِأَنَّهُ يُحِبُّ جَوْ المَدينَة.
ʾinnahu yaʿīš fī marākiš liʾannahu yuḥibbu ǧaw al-madīnah.
Unlike "because," the Arabic equivalent of "so" which is لِذَلِك so, has to go in the middle of the sentence, just like in English.
He likes the weather in Marrakesh, so he lives there now.
إنَّهُ يُحِبُّ الجَوْ في مَراكِش، لِذَلِك يَعيشُ هُناكَ الآن.
ʾinnahu yuḥibbu al-ǧaw fī marākiš, liḏalik yaʿīšu hunāka al-ʾān.
Some More Notes on Wa
Right at the beginning, we introduced و (wa) with the simple translation "and." But that's not really the whole truth.
You see, و (wa) is by far the most-used particle and most-used conjunction in the Arabic language. And as your Arabic level increases, you'll note that you can't easily translate it to "and" every time.
A simple و (wa) is frequently used repeatedly, where it would sound quite dull to English ears. Whole theses have been written on its use, but we'll look at just one example.
Sulayman Al-Halaby was once walking along a street (wa) with his hands in his pockets when (wa) he stopped for a while to light up a cigarette…
كان سُلَيْمان الحَلَبي ذاتَ مَرَّة يَمشي في الشارِع و كانَت يَداه في جَيْبِه و حينَ تَوَقَّف لِيُشعِلَ سيجارَة…
kān sulaymān al-ḥalabī ḏāta marrah yamšī fī al-šāriʿ wa kānat yadāh fī ǧaybih wa ḥīna tawaqqaf liyušʿila sīǧārah…
Here, we see that wa is used twice in this rather literary sentence—once to show the change from "walking along a street" to "with his hands in his pockets," and once that the translator has chosen to translate as "when."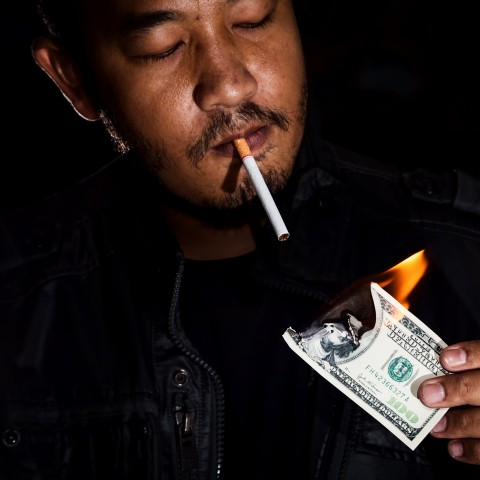 2. Conclusion
The subtle detail mentioned above, as well as the overall sense of when to use which conjunctions in Arabic, is really something that has to be picked up slowly over time.
A good writing tutor can go a long way to improve your own writing, but when it comes to a language that has such a deep literary tradition, your best bet is to do your best to work through it yourself.
The good news is that conjunctions are such a common part of language that every single time you read, you'll expose yourself to a huge number of them. There must be dozens in English in this article alone!
By taking the time to understand Arabic conjunctions, you've stepped firmly out of the beginner stages of the language. Congratulations. And keep it up!
Which of these Arabic conjunctions are you ready to practice? Are there any you're still struggling with? Let us know in the comments!
Author: Yassir Sahnoun is a HubSpot certified content strategist, copywriter and polyglot who works with language learning companies. He helps companies attract sales using content strategy, copywriting, blogging, email marketing & more.